Recent additions
Painted fireplace
A find on a recent survey.
Golden roofs pdf
A pdf file researching roof geometry
Cheddar Historic Walk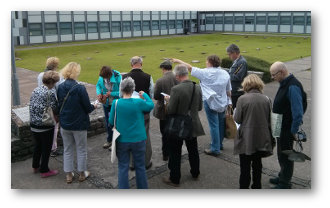 A fine day was had by svbrg members following the Historic trail around Cheddar, led by Sue & Paddy.
Starting with lunch at the Bath Arms Hotel, we followed the winding back streets and were able to access a number of properties not normally open to the public.
One of the sites in the school grounds, see photo, has the archaeological markers of an Anglo Saxon hall. Concrete pad stones indicating the former positions of earth fast posts. Interestingly a reconstruction of the hall has recently been built at the Avalon Marshes Centre. The earth fast posts found in the dry chalk of Cheddar have been duplicated in the wet peat of Shapwick. Clearly someone needs to learn why different vernacular styles occur.
If you want to follow the walk the details can be found here – Historic Cheddar Walk
The challenge of surveying old buildings
The difficulty with recording any building is that you can only record what is evident at the time. Restoration or modifications can easily blend in to the historical details and confuse the interpretation.
Read more about the Treasurers house
Witch Marks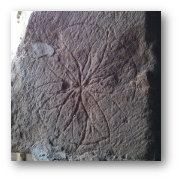 Updated 23/05/15 - link to further information added
Ritual Protection Marks, or
Witch marks
in historic Vernacular Buildings.
It is unusual to find a standing building that pre dates the C14th hence we can only note that ritual protection has taken place for centuries, even into pre history. Indeed we still do it now - horse shoes nailed above or primroses or garlic near the entry door.
Ritual deposits in vernacular buildings.
Apotropaic Marks were not the only way that rural people protected their homes. Concealment rituals were practised to avert evil too, sometimes by the builder but also by the occupant.
Ritual Deposits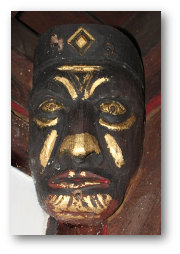 African Masks
During his SVBRG lecture Julian referred to the "
African Masks
" in St. Johns Church, Yeovil.
Here are a few images taken when the scaffold was up for restoration.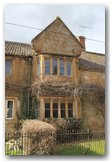 March Survey - Updated 25/03/15
Adjacent house surveyed, jointed cruck photos added. A most interesting house with canted bay and kneeler stones, painted wall decoration and witch marks. A selection of
photos
are included here, members can request the full report for more details.
Dendrochronology Project
A Dendrochronology Project (tree-ring-dating) was undertaken during 1996 -1998 which enabled a chronology to be established of the seven principal roof types found in Somerset. The Project also established that the precise date of many medieval houses is much earlier than had previously been thought. A second Project started in 2003 with the aim of expanding and consolidating the earlier findings. The projects are funded by generous grants from a number of sources.
SANHS dendrochronology report by Mark McDermott
SANHS Proceedings
SANHS are to make these available free on their website. Proceedings Volume 154 can be read
SANHS
Fairfield House
The Fairfield House tree ring data referenced in our newsletter can be found here.
Fairfield house
Wood Barn
SVBRG Our History
SVBRG - Mason's Mark talk
Those of you who enjoyed the talk on William Arnold, one of our C16th Master Masons might like to follow the attached link to see a paper written on the subject and maybe copy off the 'marks' incase you stumble across them in the vernacular houses that we survey. -
Masons marks pdf
Smoke blackened cruck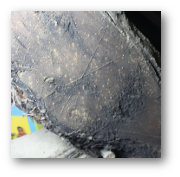 Level marks found during a recent survey
Level marks on a smoke blackend jointed cruck.
December Survey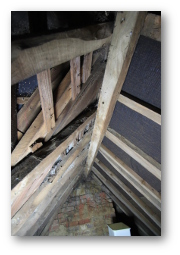 A few pictures from our December survey.
December survey roof images
February's survey - updated 26/02/15
Decoding the house history proved very challenging as nothing was as it first seemed. A selection of
photos
are included here.
See the hard copy report for more details.
Understanding Historic Buildings
Historic England have updated their pdf guide to recording buildings,
"A Guide to Good Recording Practice"