JOHN DALLIMORE IS AWARDED THE MBE
A smiling John when Lady Gass presented him with his MBE at Compton Dundon Village Hall on Wednesday 19th November 2008.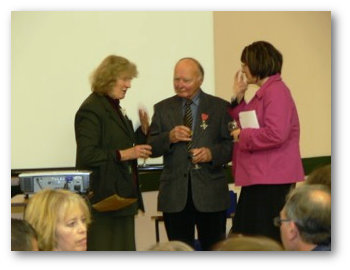 The following article appeared in the Western Gazette 3rd January 2008
A FASCINATlON with ancient buildings and the development of villages in Somerset has led to a former district council worker being made an MBE. John Timothy DalIimore, aged 79, has lived in Pitney for 18 years.
He is a member of the Somerset Vernacular Buiilding Research Group, a voluntary organisation which records and studies the traditional houses and buildings of the county.
He was one of the founder members who started the voluntary group in 1979, and has gradually built it up to more than 70 members.
His wife Joan taught at Norton-sub-Hamdon Primary School. The former deputy chief environmental health official for Yeovil District Council, now South Somerset District Council, said: "I worked for the council for 35 years, and retired 20 years ago. I do this voluntary research 365 days of the year. "We thought rather than doing the ad hoc medieval house that cropped up, we would study the whol village, and look at how thè different types of housing developed. What we are doing, l hope, is producing something of value.
I had not been aware some members of the group had put me forward for an honour and I was surprised. "My gaining this award reflects the vaIue of the work the group has done over the years. It is the only county In which a group has done this amount of work on traditional houses in this way."