Next meeting -
Wednesday 16 October
John and Denny on Church Houses incl. Milborne Port .
New Pages added
Training
page, in the "Surveys" menu.
Mailing list
Sign up for our mailing list and we will email you with reminders of our meetings.

We are now on Twitter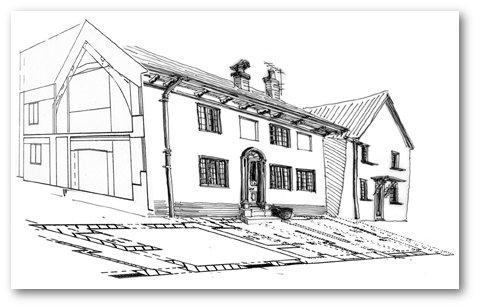 The Group
The Somerset Vernacular Building Research Group, SVBRG is a voluntary organisation founded in 1979 to record and study the traditional houses and buildings of the historic county of Somerset. Of particular interest are the smaller manor houses, farmhouses, cottages and barns which are in the local style and built of local materials.
---
Latest News
SPAB's Architectural Red Box photo collection is now available online on the England's Places website. Until recently, you had to visit the Historic England Archive in Swindon to browse this massive collection of over 600,000 photographs. Now we have digitised the contents of the Red Boxes so that researchers can browse them from anywhere in England and beyond.
I did have an issue panning the photos in Firefox. Works OK in Chrome.